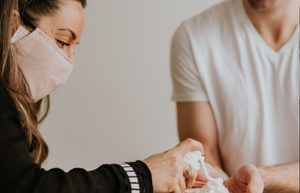 HEllO skincare enthusiast
CAN'T FIND THE ANSWER IN OUR FAQ BELOW
FAQ's | Frequently Asked Questions
NO. We ship to CANADA only. 
It depends on where you are. Orders processed here will take 5-10 business days to arrive. Delivery details will be provided in your confirmation email.
Loshen & Crem's is not responsible for incorrect or missing information on the shipping address. Important :PLEASE MAKE SURE YOU ADD ANY RELEVANT INFORMATION :Such as a buzzerSpecial doorSpecial needs if your delivery address has a South, North, West, East. If this information is incorrect or missing, we cannot assure you that your order will be delivered to you properly.Important… it is IMPOSSIBLE  to change your address once the order has left our warehouse.
LOSHEN & CREM cannot refund OR re-ship orders that have address errors, a lack of relevant information, or a last-minute change.Note: If you realize an error or want to make a change after your order has left with the carrier has picked up a warehouse and, we advise you to contact the carrier's customer service department and sees with them if it is possible to change the delivery address.
We do our best to make your order goes out on the same day it was placed. We also make sure express (Canada post, Purolator or FedEx), once the order has left our warehouse, we can't guarantee the delivery time. Rest assure that we will be there to help.
When the tracking for your package is updated as "delivered" by the postal carrier, it triggers an automatic email from us to let you know about this new status. 
Sometimes, a package will be marked as delivered by the shipping carrier prematurely. If you receive the delivery email but have not received your package, here is what we suggest:
Delivery vehicles use GPS that can automatically update a package as "delivered" prematurely. Please wait another business day, as the package could have been marked as delivered by mistake, and will arrive the following day.We always update your order with your tracking and carrier, so you can contact them directly with your tracking.  Ask who delivered the package, and ask for the details of that day's delivery.If the package still does not show up, please call the carrier to file a claim. Loshen & Crem cannot reimburse OR re-ship orders that were mis-delivered by the carrier or stolen from a property. Thank you for understanding!
We're so sorry. Send an email to hello@loshen.ca but before please read our policy on damaged or defective items below.
We know from time to time you might not be happy with a product you've purchased.
You can return any unwanted products within 7 days of delivery provided they are unopened and in perfect condition. 
We will refund or offer credit within 30 days of purchase.
Please follow our simple step by step guide below.
LOSHEN & CREM does not allow returns or exchanges on any opened, unsealed, or used products unless you have experienced an allergic reaction. (Please see Allergic Reaction section below).
All Nail Polishes, Make-up, Hair Care and Adult Toys are non-refundable/non-exchangeable due to hygienic reasons.
No! Note that the refund does not include the delivery charges of original shipping to you, or return postage costs unless we've made an error or the item is damaged or defective. 
Shipping is subject to product availability. In exceptional cases, where inventory for select items is no longer available, that item may be removed from your order, and all other items will be shipped. Refer to your shipment confirmation email to review all items sent and the amount charged to your card. Depending on your items' size and fulfillment location, you may receive your order in multiple packages. Some products offered may be temporarily out of stock. In such a case, a customer service agent will contact you by email to inform you of any shipping delays. If your order contains a combination of available products and out-of-stock products, you should expect multiple shipments.
Samples
OF COURSE ! and that's our goal. When placing your order, please go in the section NOTES and write down the samples you would like to receive.