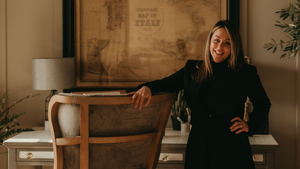 Skin Care Consultation Near You
BUILD BETTER, STRONGER AND HEALTHIER SKIN
SKIN CARE CONSULTATION 1:1
Skincare can be so overwhelming. Your skin is unique, and your best friend's products probably won't work for your skin.
Sarah-Maude Cabana, a certified professional with over 15+ years of experience working with multiple skincare brands, offers a 1:1 session.
We love our international followers and your interest in our consultations and skincare products at Loshen & Crem. Unfortunately, we are unable to provide services or ship product outside of Canada due to national health regulations. We recommend that you reach out to a local aesthetician who can provide information based on your skin type with products that are available within your country.
Unfortunately no, consultations are  program is a deep dive into your bathroom cabinet to get rid of the things that are potentially harming your skin and create a customized plan for your best skin yet. We'll go over your product wish list, your current skincare routine, and any medications or supplements you may be taking. We then provide recommendations and focus on what to use (and what to avoid), when to use it, and how to apply.
Your 1:1 session will be 45 minutes long with a comprehensive follow-up email covering recommendations discussed. We'll also schedule a 15-minute follow-up appointment 6 weeks following your purchase.