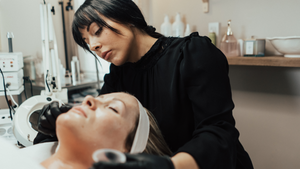 Building better, stronger, healthier skin.
what is the
BesPoke facial
For the first-time client only. Consultation is required.
A complete sensory experience fully customized to your skin. This Facial treatment begins with a relaxing massage & lymphatic draining (if needed). A cocktail of active ingredients is introduced step-by-step. Meanwhile, Invigorating massage techniques are used to lift & sculpt the face. LED light therapy, micro-current, radio-frequency, and/or high-frequency treatments may be indicated.
Your skin will be calm, balanced, and radiant.
The Bespoke Facial can be done as frequently as once per month. It is an incredible treatment for building stronger skin. It's better to ask our professional. Since it's personalized to your skin, the recommendation will be based on your skin.
It's a 60 to 90 minutes facial. In general, It includes a face massage, an exfoliant adapted to your skin, a masque and sometimes double mask.